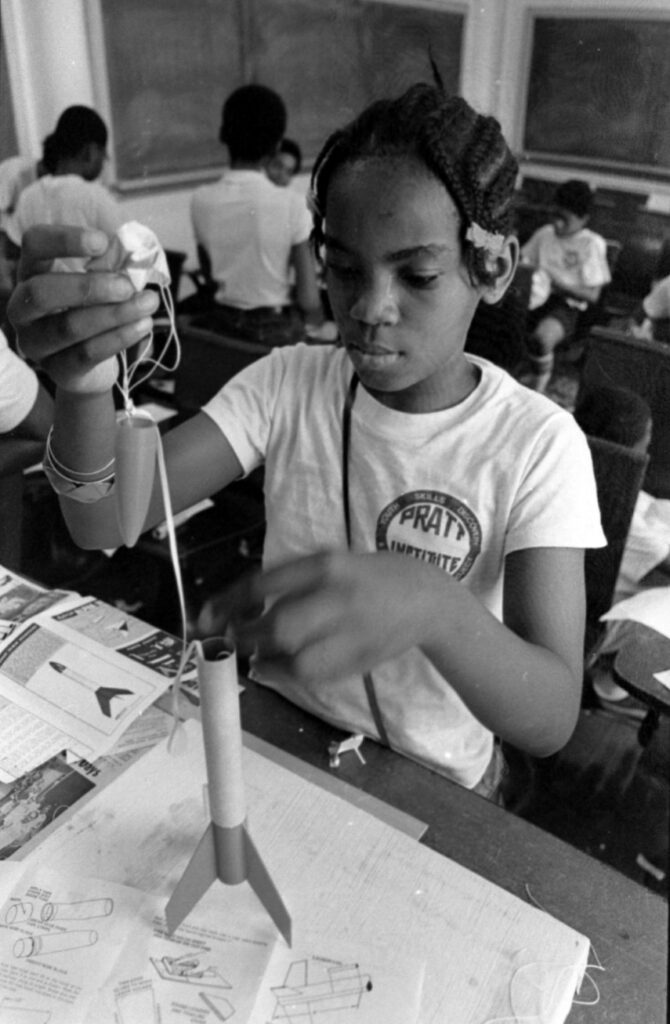 March 28–May 1, 2022
In collaboration with Myrtle Avenue Brooklyn Partnership (MABP), Pratt's Preserving Activism initiative is sponsoring a photography installation in seven Myrtle Avenue storefronts.
Opening Celebration April 22
6p–8p Myrtle Plaza
Join us for the opening celebration sponsored by Foundation Expanded: Myrtle Avenue Public Projects. A video installation on the Pratt Film/Video Department Building windows will include photos from this Preserving Activism exhibition.
---
The Search for Hidden History (1973–2002)
In the early '70s, Pratt student activists from the Black Student Union (BSU), demanded that the Pratt administration diversify the student body and teaching force, revamp the curriculum through Black and Latin American Studies, and open up the campus to Central Brooklyn's communities through summer youth programs. In oral histories, BSU activists describe their involvement with Horace Williams (Pratt, BFA Fashion '70) who started two summer youth programs beginning in 1973.
Yet, when students, faculty, and staff searched through Pratt's archival sources for more details, they found only a few brochures and reports. Still, a set of photographic contact sheets in Pratt's archives led us to Marc Weinstein (Pratt, BFA Photography '74), who had worked with Horace Williams as a freelance photographer. Marc shared his images for this project, which begins to restore the hidden history of Pratt's summer youth programs.
---
Horace Williams (1946–2015)

Horace Williams worked at Pratt for almost 30 years, eventually becoming Pratt's first African American Vice-President. He led two summer youth programs—the Summer Youth Skills and Development Program (on Pratt's campus) and the Youth and Adult Services Coalition (in 17 Central Brooklyn sites). These historic photos from the 1970s and '80s feature the wide-ranging learning opportunities offered to more than 6,000 Brooklyn youth and young adults.
---
Beyond and Between Pratt's Gates
Student research on the Summer Youth Skills Development project is part of a broader research project that also investigated the history of other youth and educational programs at Pratt in a course entitled Beyond and Between Pratt's Gates (2021).
---
Selected photos will be exhibited at 7 storefronts along Myrtle Ave until May 1, 2022
Three Stars Laundry 439 Myrtle Ave Myrtle Pharmacy 446A Myrtle Ave Corkscrew Wines 489 Myrtle Ave Soco 509 Myrtle Ave Calyer 519 Myrtle Ave Emerson Convenience 560 Myrtle Ave Soketah Hair Salon 564 Myrtle Ave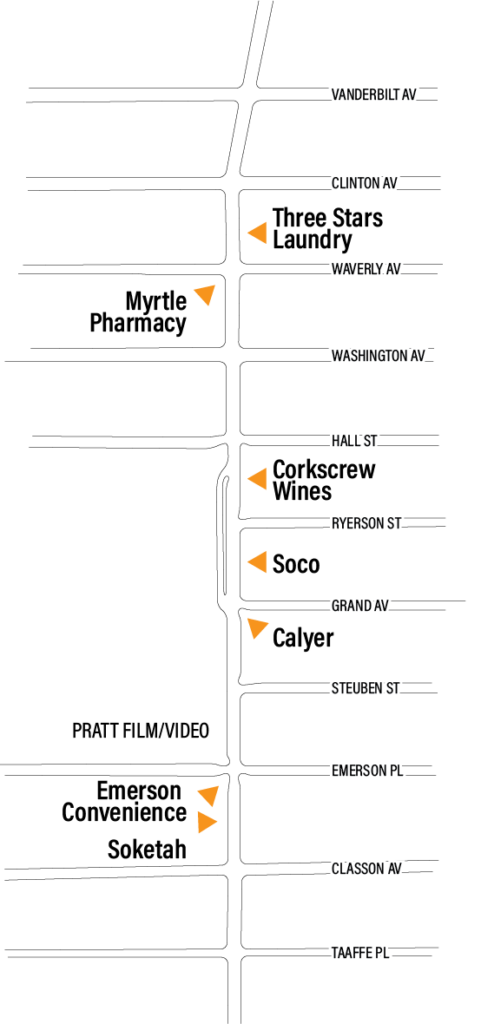 Photography: Marc Weinstein
Curatorial Team: Heather Lewis, Toni Shi, Lee Shores, Keena Suh
Student Researchers: Samantha DeRenzo, Mikayla LaFleur, Toni Shi, Lee Shores, Evita Yi
Historical Assistance: Donna Gorsline (Assistant to the Dean, School of Design); Jelani Bandele (Alumni Engagement Manager); Roger Green (Brooklyn Assemblyman, 52nd District, 1981–2007)
Oral Histories: Ayan Gorsline (summer youth participant); Connie Harold (BFA Communication Design '75); Pat Cummings (BFA Illustration '74); Larry Provette, BArch '74)
Preserving Activism Team: Nicholas Dease, Cristina Fontánez Rodríguez, Rebecca Krucoff, Heather Lewis, Christopher Neville, Ron Shiffman, Keena Suh, Vicki Weiner
Funding: Pratt Strategic Planning Grant
2020–2021; Printing and installation by Color Group
Thank you to Chad Purkey, Executive Director, Myrtle Avenue Brooklyn Partnership, and the participating businesses for their sponsorship.

Help us connect!
Contact us at activism@pratt.edu if you or anyone you know participated in the Pratt Summer Youth Programs!